Personal info
Education
My educational endeavors have been extensive and varied:
Two years of military school at Schreiner Institute in Kerrville, Texas.
One year at El Campo High School in El Campo, TX. Graduated in 1966.
One year at Trinity University in San Antonio. Physics major. Unfocused and unproductive.
One year at Wharton County Junior College. Drunk most of the time. Skipped a lot of classes. Still made good grades.
Two years plus a bit at The University of Texas resulting in a B.A. with a major in psychology and all the pre-med requirements.
Will finish the course work for a master's degree in Information Systems Management in Feb 2007.
And now I have done that. I have the degree. What I need is a decent job.
Work
In this area, like that of education, my experience has been varied and extensive.
Labor Heavy equipment operator Factory machine operator

Farm worker Warehouse manager Inside sales

Truck driver--made 47 states in an 18-wheeler--never been to ND

Technical support for cellphones and later for satellite television

Apprentice millwright


Taxi driver Dispatcher Small business owner








Courses taken
Educated in Psychology (personality, cognition, abnormal, clinical, statistics, physiological), History (American, ancient Greece and Rome, early 20th century Italy, Mathematics (calculus, differential equations), Biology (environmental, marine, human parasitology, genetics, microbiology, human physiology, cell physiology), Chemistry (inorganic, organic, quantitative analysis), Physics (kinetics, dynamics, electricity and magnetism, relativity, quantum dynamics), and a host of others, including geology, several courses in American and English and Classical Greek and Roman literature, and two years of Spanish (I've forgotten nearly all of it).
For my most recent program: Communication and Ethics, Organizational Behavior, Legal Environment of Business, Accounting and Finance, Programming (C), Systems Analysis, Project Management, Database Concepts, Database Management, Networking Concepts, Network Management, Risk Management, and Strategic Management.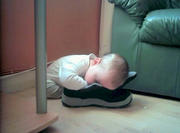 Things I like: well-written publications of any kind, most music, some movies, camping on the beach
Things I do not like: claims based on ideology rather than truth, mean people, television (mostly), turnips
In addition there is a host of things to which I am indifferent. I find as I age that list grows longer.
I have always considered sleep to be largely a waste of time. When I was a truck driver, sleep was a tool I used effectively to increase productivity. These days it is a necessity but I don't handle it well. I wake up and get out of bed 4 or 5 times a night. Every night.